1970 1979
A timeline of news, stories and pictures from 1970 1979.
If you have stories, memories or pictures of the band we'd love to hear from you.
All 1840 1850 1860 1870 1880 1890 1900 1910 1920 1930 1940 1950 1960 1970 1979 1980 1990 2000 2010
Westminster Abbey Concert
17 August 1978
St Paul's Steps College Garden Westminster Abbey
25 Quit in band discord
28 February 1977
Discord between the organisers of the City of Oxford Silver Band has led to the resignation of Mr Ken Membury, the leader of the band's junior section, and 25 of his young musicians.
The breakaway group have reformed themselves at the Jubilee Brass (Oxford) Band, and they are already accepting bookings.
The sudden departure of the players came as a complete surprise to the band committee. They gave no prior warning, but just arrived at a rehearsal and returned their instruments.
More than 30 were involved originally, but at a meeting called a few days later to try to patch up affairs some of the players were persuaded to stay on my My Terry Brotherhood the band's musical director.
Mr Membury said of his resignation: "There's a little bit of internal politics in this."
THe accused the band committee of trying to build up senior sections of the band with his junior members.
"The parents didn't see any future for their children, so they have gone out alone and decided to form their own band."
No good
Mr Frank Wolff, the secretary of the band committee, retaliated by accusing parents of trying to interfere in the band's musical policy.
"It's nonsense to say that we have been trying to stock up the senior band. People ought to realise that young players who come to us must be given the chance to progress musically. It's no good for them to play Baa Baa Black Sheep all the time."
"This is why we move them into senior sections: it's a decision we take as a democratically elected committee, and the parents have no right to interfere."
Mr Wolff stessed that the departure of the young players would have no adverse affect on the silver band
"We are still very much in business, and relations between us are better than they have been for years," he said.
---
OXFORD MAIL, 22 FEBRUARY 1977
Jubilee Brass Band
1977
The Jubilee brass band split from COSB emerging out of the City of Oxford Silver Band Juniors. Meanwhile the Oxford Templars (effectively the COSB Training band) brass began competing.
Tour of US and Canada
August 1976
The City of Oxford Youth Band embark on a tour of the USA and Canada. Jim Alder composes the Bicentenary March.
Record
August 1976
The City of Oxford Youth Band conducted by Terry Brotherhood record an LP.
High Spirits
Listen to more tracks here.
DISCORD AS BAND LEADER RESIGNS
2 April 1976
THE MUSICAL director of the City of Oxford Silver Band is stepping down off the rostrum after 27 years of increasing success.
Mr Nobby Challis, who restarted the band after the 1939-45 war, took his last regular youth band practice and then looked forward to some moments of leisure.
[PHOTO][CAPTION: MR CHALLIS]
The band now fields three regular sets of players and plays in the championship section in silver band competitions.
The direction of the band is to be taken over by Mr Don Lewis and - following a committee inquiry into the way the band is run - new guidelines have been drawn up for the officials.
Friction between some of the leading members of the band, which led to an angry resignation letter from Mr Challis, was caused by "failure to have clear and up-to-date rules defining the responsibilities of the committee and the officers," says the committee report.
But Mr Challis says he is not leaving because of disagreements with the band but because he was committed to five evenings a week working.
"I went down to see my sisters in Cambridge," he said, "and they told me that they had not seen me for five years. I decided it was time to call it a day."
Mr Challis and his wife have not had a proper holiday for 20 years, although he has been on tour with the band to Holland.
"The American tour is coming up this year and me being my age I don't suppose I should have gone," he said.
Mr Challis said he would still help the band when he was needed.
"The only rehearsals I have missed in all the years were when I had broken my ankle and when I was in bed with the shingles."
---
OXFORD MAIL, 2 April 1976
Band goes on tour
August 1975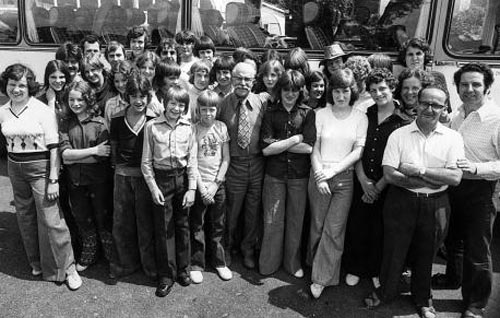 The City of Oxford Silver Band preparing to leave Oxford for a concert tour of Germany and Holland.
College Garden Westminster Abbey
4 August 1974
Juniors' Competition Success
August 1973
Summer 1973 : City of Oxford Silver Band Juniors won the Oxfordshire & District Brass Band Association Entertainment Contest (Section C).
Tour of France and Germany.
April 1973
It was on this tour that Heinrich Walter, band leader of Nordlingen's brass band composed The City of Oxford Silver Band March for the visitors from Oxford.
College Garden Westminster Abbey
3 August 1972
1970 Oxford Annual Contest
3 October 1970
The City of Oxford Silver Band hosts its annual contest at Oxford Town Hall. Winners were: March Section: Tredegar Town, Section A: Tredegar Town, Section B: Ellesborough Silver and Section C: Blaenavon Colliery.
Youth Band in Kennington 1970
11 July 1970
The City of Oxford Youth Band conducted by Nobby Challis, playing at a fundraising event in Kennington as part of the 1970 Kennington Overseas aid week.