1920 1929
A timeline of news, stories and pictures from 1920 1929.
If you have stories, memories or pictures of the band we'd love to hear from you.
All 1840 1850 1860 1870 1880 1890 1900 1910 1920 1929 1930 1940 1950 1960 1970 1980 1990 2000 2010
1929 Annual Contest
17 August 1929
The Headington Silver Prize band hosts its annual contest. The winners were: 1st Section: Hanwell, 2nd Section: Morris Motors and 3rd Section: Whetstone.
New Players and new instruments
1929
This was now 1929. In the ensuing months we also gained a number of new players, mostly from Wales where the pits were closing and there was work in Oxford at both Pressed Steel and Morris Motors, and also in the building trade which went in hand with the expanding car industry. In that year, 1929, we attended a number of contests. The second section at Leicester being one of them, amongst some very good Bands indeed. We did not win a prize but I feel sure that we all felt so much better having competed in such good company. The test piece was Weber's 'Der Freischuetz'. We later on competed at Aynho but I am not sure about the name of the test piece and again no prize having played under our own conductor Mr Uzzell, Mr Brooks not being available, also the Band was in the process of rebuilding with the new players who were still settling in. In July we again competed at Fairford also still under Mr Uzzell where the Band gave a very good performance and were awarded 2nd prize. Next came the association contest which was again held at Shipton Manor and the Band, playing under Frank Brooks gained 1st prize, again playing 'Der Freifchutz'. Next the Band played at Bournemouth winning the march contest With 'Puncinello' which was actually played on the march, then were 2nd in both first and second section. As I remember it, the test pieces were 'Summer Day', for section two, and 'Der Freifchutz', for section one. The Band then competed at Hanwell for the third year in succession and after being 3rd in 1927, and 2nd in 1928, we managed to win it this time. The test piece was 'Rigoletto'. I forgot to mention that the Band took possession of a new set of instruments earlier in the year and this appeared to give the Band a much heavier tone than previously. That was about all the contesting for that year, 1929, apart from a solo and quartet contest at Bicester in November which my quartet again took 1st prize and I won the solo contest playing flugel. I believe Mr Uzzell got 3rd with one of his quartets. That was a very busy year and quite a baptism for Mr Uzzell as Bandmaster. There were, of course, quite a number of engagements and concerts which were carried out by the Band, both out of doors and in the Town Hall and also out of the City.
BAND OFFICIALS VISIT MANCHESTER
3 October 1928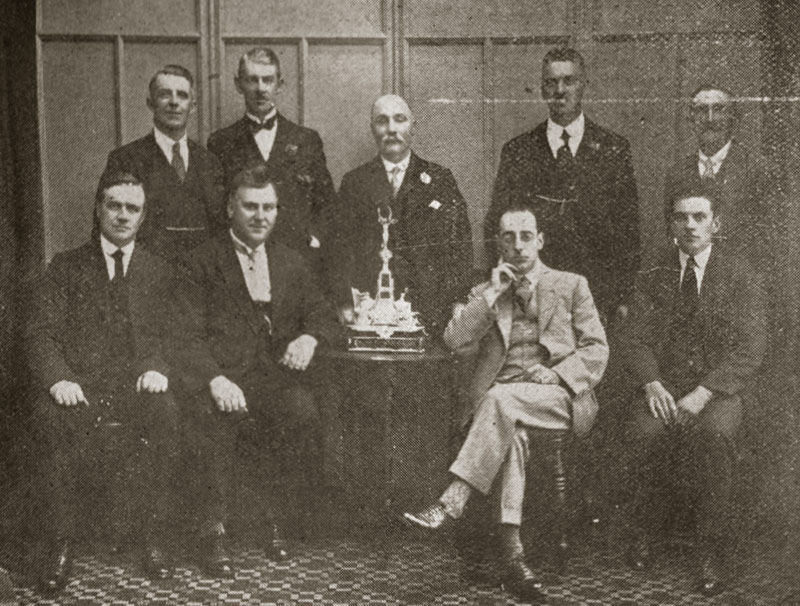 A group taken at Manchester on the occasion of the presentation of Mrs. G. Herbert Morrell's trophy to the Denton Band, the first prize winners at the recent contest organised by the Headington Prize Band. The Oxford representatives (Messrs. Frank Harvey, H. Hinkins, Chas E. Clifton and A. Alder) are standing.
---
OXFORD JOURNAL ILLUSTRATED - 3 October 1928
Oxford Annual Contest
18 August 1928
The Headington Silver Prize Band will hold their third annual fete and band contest on Saturday, August 18 in Tuckwell's Meadows. There will be three sections, each section being limited to twelve bands. The test pieces are to be of the band's own choice. The prizes, of which the most coveted is the Morrell Challenge Trophy, include challenge bowls, shields and medals for soloists. The adjudicators are: Sections 1 and 2, Dr T. Keighley; Section 3 Mr James Brier, Blackpool. OXFORD JOURNAL ILLUSTRATED - 20 June 1928
The winners were: 1st Section: Denton Original M./C., 2nd Section: Kettering Town Silver Band and 3rd Section: Croft Brass
Visitors from Wales
27 July 1928
On Sunday 27th July 1928 over 1,000 miners and their families from Newport, Monmouthshire, came to Oxford, and sailed downstream from Folly Bridge to Sandford Lock, where they disembarked and joined in community singing, supported by the Headington Prize Silver Band. Many of the migrants had walked from Wales and would stay to seek work at the expanding Morris car factory.
WELSH MINERS' THAMES-SIDE COMMUNITY SINGING
The Scene adjoining Sandford Lock on Sunday evening, when over a thousand miners and their families from Newport joined in community singing, accompanied by the Headington Silver Prize Band. Five steamers were required to accommodate the trippers. OXFORD JOURNAL ILLUSTRATED - 1 AUGUST 1928
Association Contest Winners
21 July 1928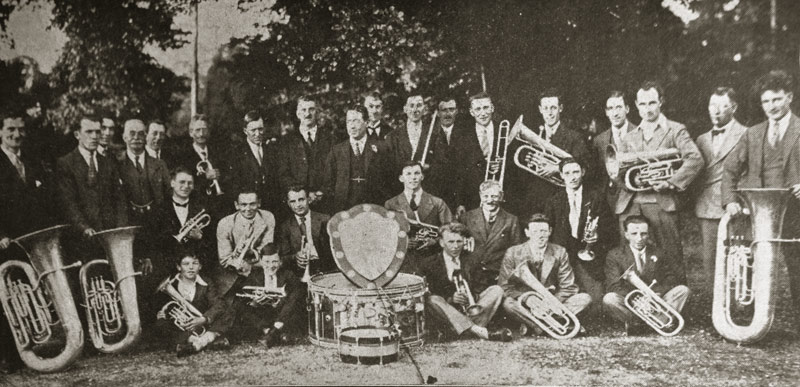 At the Oxfordshire and District Brass Band Association contest at Shipton Manor Headington win the first section playing L'Ebreo.
THE BANBURY SPORTS CLUB FETE
21 June 1928
This club announces its second annual fete for the Easington ground on July 3rd. A list of some of the attractions will be found in the advertisement on our last page. There will be a push ball matches, tugs of war, a motorcycle gymkhana, gymnastic display and a baby show and other amusements. In the tug of war the Town Council will pull the doctors of the town. The Headington Silver Prize Band will supply the music and play for dancing. - BANBURY GUARDIAN - Thursday 21 June 1928
1928:Changing fortunes
1928
1928 was a year of changing fortunes for the Band. The Band were 2nd at Fairford, test piece 'Semiramide' and then won the association contest which was held at a new venue (Shipton Manor). Morris Motors did not compete as they were also having problems. The test piece was 'Semiramide'. As far as I remember that was all the contesting we did that year until September when the Band decided to enter the contest at Hanwell which was being held much later than usual. This, however caused a rift in the Band and Mr Miller objected to the Band going, on the grounds that it was a waste of money and that we could not afford to go. He resigned when it was put to the vote and the Band decided to go. This was a great pity as he had been a good Bandmaster for almost ten years. This left me to coach the Band for the last two weeks before the contest as Frank Brooks, our professional, could not attend until the night before the contest as he was busy preparing his own Band for Crystal Palace which was later that month. I had earlier that year been elected as the assistant Bandmaster with little or no experience so that it was a lot on my shoulders. However, as things turned out, we did very well to get 2nd prize which was one better than the year before. We were without a Bandmaster for a while so I continued taking the Band in rehearsal and a couple of concerts that we did in the Town Hall were taken by Mr Brooks. About this time one of our members who worked at Pressed Steel told us of a Mr William Uzzell working at Pressed Steel who was a former Bandmaster in Wales. As a result he was invited along for an audition and was offered the position as Bandmaster which he accepted. I stayed on as a Deputy Bandmaster working closely with Mr Uzzell and we got on well together and he entrusted me with the 'A' quartet and shortly after we won the association quartet contest.JA
Oxford Annual Contest
6 August 1927
The Headington Silver Prize band hosts its Annual Contest. The winners were: 1st Section: Callender's Cables, 2nd Section: Callender's Cables 'A'
---
HEADINGTON, OXFORD
Second Annual Contest, Saturday, August 6th. Prizes Value £400. First Section : First prize, £25 and Silver Challenge Trophy ; second, 12 Guineas and Silver Challenge Bowl ; third. 7 Guineas. Medals and Specials.
Second Section (for bands not having won a first prize exceeding 8 guineas since 1925). Testpiece "Poetic Fancies" (W. & R.). First prize, 8 Guineas and Silver Challenge Vase ; second. 5 Guineas and Silver Challenge Bowl ; third, 3 Guineas. Medals and Specials. Dress and Deportment Prizes. (Drummers Bass and Side) Prizes.
Adjudicator : Mr. Geo. Hawkins.
Schedules and full particulars from Mr. Chas. E. Clifton, Hon. Secretary, 17, Parker Street, Iffley Road, Oxford
---
BRASS BAND NEWS, AUGUST 1927
---
The Headington Band's contest on August 6th, was a great success, and some fine bands were present, but the local juniors in Section 2 did not stand much chance against some others that had entered in that Section. Perehaps Mr. Clifton will try a special local section at a future contest.
---
BRASS BAND NEWS, SEPTEMBER 1927
Oxford and District News
1 February 1927
Headington Silver gave another excellent concert in Oxford Town Hall early in the month. A fairly large audience was present, but the financial result showed a loss, as usual. Yet a letter recently appeared in the local press asking for more of those concerts. Can a band be expected to run them at a loss? As I heard a bandsman say recently, apropos of these concerts : "Oxford people want them free buckshee, and for nothing; they want to be paid to attend them and get something given them when they leave." He is not far wrong.
---
BRASS BAND NEWS, FEBRUARY 1927
Oxford and District News
January 1927
Headington are still one of the top-class local bands. Their Sunday concerts at Oxford Town Hall are musical treats, but a pity that they are not better patronised. The humble threepenny seems to be as valuable to an Oxonian as "saxpence" to our friends North of the Tweed!
---
BRASS BAND NEWS, JANUARY 1927
1927 Contests
1927
Hanwell, Egham, Oxford and Fairford contests
1927 saw the Band gradually making progress. In 1926 the Pressed Steel works had opened and several Bandsmen from Wales who got jobs there joined us. A lovely solo cornet from Aberdare, a euphonium from Ogmore and an Eb bass from that region. 1927 saw the Band back to the contest field, gaining 3rd prize in the second section at Hanwell, the test piece was 'Operatic Beauties'. The Band also competed at Egham. Then again at Fairford gaining 1st prize on 'Operatic Beauties'. The Band also competed at association contest which turned out to be a real farce. Only two Bands entered the open section, Hanwell and Morris Motors which was won by Hanwell, and only two Bands in the association first section, Morris Motors and Headington, finishing in that order. No entries at all in the lower section. Headington won the quartet earlier that year.JA
Headington Carnival
1926
The band begins the Headington Carnival Committee which holds an annual carnival and brass band contest to help raise funds to reequip the band.
1926
1926
1926 saw the Band gradually building up a little with a learners class again. The Band entered the association solo and quartet contest which was held in the Town Hall and which originated the year before in 1925. They obtained 2nd in solo and 2nd and 3rd in the quartet. Later in the year they took part in the association full Band contest and were 2nd again to Morris Motors, the test piece being 'Oberon'. It was shortly after that contest that I returned to the Band and helped out as assistant soloist.JA
Oxford and District News
December 1925
Headington are still carrying on as well as ever, and are worth going miles to hear. They have several Sunday evening concerts this winter in the Town Hall. Hope that they will be well patronised.
---
BRASS BAND NEWS, DECEMBER 1925
Oxford and District News
October 1925
Headington Silver were at Abingdon on September 20th for a couple of concerts. Good progmmmes were played, and I noticed several L. J. items "Echoes of the Opera" being particularly well rendered. In spite of many setbacks, Headington are still the leading band of the d1strict.
---
BRASS BAND NEWS, OCTOBER 1925
Oxford and District News
August 1925
Headington have recommenced their Sunday outdoor concerts. Played on Headington Sports Ground on July 5th and 19th.
---
BRASS BAND NEWS, AUGUST 1925
ODBBA Contest
18 July 1925
The Band did compete at the association contest 18 July 1925 and were 2nd to Morris Motors. The test piece being 'Echoes of the Opera', and they also took the medal for best solo cornet. So although down, were not out!JA
Oxford and District News
July 1925
Headington Silver still carrying on. Have not had much luck lately s1nce losing a number of their best men to Morris' Motor Works Band. Everyone must have their ups and downs, Mr Clifton.
---
BRASS BAND NEWS, JULY 1925
Oxford and District News
March 1925
The Third Annual Dinner of the Headington Silver Band took place at the "Britannia," Headington, on Thursday. February 12th, when the band members were the guests of Mr. J. Wyatt, who entertained the band as a mark of appreciation for their splendid successes during the past year on the contest field.
---
BRASS BAND NEWS, MARCH 1925
Oxford and District News
February 1925
Headington Silver is still busy, having had several very enjoyable concerts in Oxford Town Hall durmg the winter season. Goo& crowds have been the rule, but bad collections. 560 threepenny pieces formed the greater part of the collection on one occasion I am sorry to hear that they are likely to lose one or two of their best men, who are joining Morris' Motor Works Band, but Headington will survive it, with such a secretary as Mr. Clifton to help them on. And there are always plenty of learners ready to fill up the gaps.
---
BRASS BAND NEWS, FEBRUARY 1925
Cape of Good Hope
1925
The Band moved its headquarters to the Cape of Good Hope pub on the plain, Oxford. It is also suggested that the band change its name.
Vacancy Ad
October 1924
HEADINGTON SILVER PRIZE BAND (Oxford).
Wanted good Solo Cornet and Euphonium players (Contesting). Regular work found for experienced Carpenter and Bricklayer. C. E. CLIFTON, Secretary, 17, Parker Street, Iffley Rd., Oxford
---
BRASS BAND NEWS, OCTOBER 1924
Morris Motors band
1924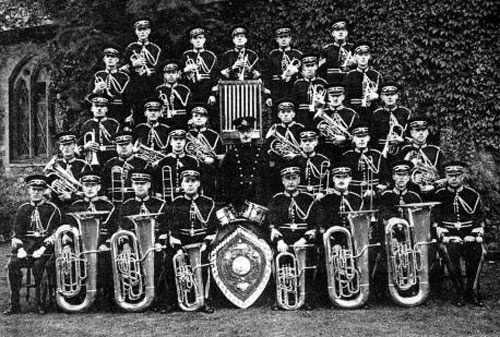 Just after Crystal Palace, Morris Motors Band started up and depleted the ranks of Headington Band by nine players, myself included. Three solo cornets, flugel, solo horn, solo euphonium, two Bb basses also three former Headington players on cornet, baritone and trombone. All of these players were employees in the works. I was not working there at that time but went along as I was offered the soprano which was what I had always wanted. This left Headington Band in the doldrums for some little while…JA
Crystal Palace Contest
September 1924
In September the Band played in the 5th section at Crystal Palace on the test piece 'Labour and Love'. Our professional conductor, Frank Brooks was unable to train and conduct the Band on this occasion as he said that he had his hands full with his own Band, Wolverton, who were in the Grand Shield section, one section below the Championship, and were playing 'Oliver Cromwell'. As a result we engaged Mr Albert Lawton from Leicester who had been the adjudicator at Oxford. This, I am afraid was a very bad mistake as he was a Yorkshireman and he was continually saying "I want more tone, more tone". We never were a heavy Band and so on the day, we practically blew our heads off and were well slated for it. It could all have been so different with our usual conductor.JA
---
Headington went to Crystal Palace, but did not succeed in getting into the prizes, although they gave a good performance. Mr. A Lawton was engaged to coach them for this contest, and certainly worked wonders with them. We shall hear more of Headington.
---
BRASS BAND NEWS, NOVEMBER 1924
OXFORD AND DISTRICT NOTES
August 1924
Headington have also been busy as ever.
I hear that a Works' Band is being started at Morris' Motor Works, at Cowley, Oxon. Should be able to get a good band here, but I hope it will not affect Headington, as nearly all their men are employed at Morris'.What has become of East Oxford and Cowley, Mr. Bowen?
---
BRASS BAND NEWS, NOVEMBER 1924
Higham Instruments
August 1924
/pages/images/timeline/1924-higham-ad.jpg
ODBBA Contest
July 1924
At the Oxford and District Brass Band Association contest held at Worcester College Sports ground
the Band won two 1st prizes playing the march 'Joy of Life' and the test piece 'Woodland Revels'. There was also an open section that year for Bands outside of the Association with a choice of two test pieces, either 'Rigoletto' or 'Berlioz Faust'. The Band also entered this section choosing to play 'Rigoletto' which had been well and truly rehearsed that year. Three other Bands, Aldbourne, Swindon and Bletchley also played the same piece, but Hanwell Band from London chose to play 'Berlioz Faust', a much more difficult piece and practically swept the board. They won both march and test piece and also medals for soprano, solo cornet, solo horn, trombone and euphonium. Headington were 2nd in both march and test piece and won the medal for flugel, the only thing that Hanwell did not take back to London. I still have that medal.JA
Oxford and District News
July 1924
Headington Silver still the busiest band in the district took 2nd prize at Swindon, May 24th, 3rd at Silchester, May 31st (Henley) Engaged for Whit Monday Sports at Faringdon, and gave great satisfaction to all. Evening concert on Faringdon Market place included test-pieces for Henley and Oxford. Thanks for balance-sheet, Mr. Clifton, what an eyeopener! Income, £444 9s 9d. Balance in hand of £112 Os 81/2d. Well done, Headington .
---
BRASS BAND NEWS, JULY 1924
1924 Contests
1924
The band competed at Swindon 24 May coming 2nd on the March 'Joy of Life' and 3rd on the test piece 'Rigoletto'. The Band also competed at Silchester coming 1st on 'Joy of Life', and 2nd on the test piece 'Rigoletto'. The same again at Aldbourne, then at Henley where the Band won on the test piece 'Gems of the Opera'. There was no march contest. In July we competed again at Fairford with 1st, playing march 'Joy of Life', but only 2nd on test piece 'Rigoletto'.JA
Oxford and District News
May 1924
The Second Annual Dinner of the Headington Silver Band was well attended, Mr Frank Gray, M. P. , occupying the place of honour, supported by Mr. W. T. Brayne (Vice-President), Mr. W. Miller (Bandmaster), Mr. C. E Clifton (Secretary), and others. Mr Clifton mentioned during the course of a very enjoyable evening that the band's turnover for the past 12 months amounted to over £400, and there was a balance on the right side of over £100. Bravo! Mr. Frank Gray, who is a very enthusiastic Vice-President in spite of his many other activities, in accepting a large photo of the band, said that it was one of the best bands in Oxfordshire, but he hoped to see it one of the best in England. Stick to it, Headington! You have a long way to go, but you are travelling on the right road.
---
BRASS BAND NEWS, MAY 1924
Oxford and District News
April 1924
Headington Silver Band's last indoor concert of the season took place at the Town Hall, Oxford, on Sunday, March 16th. The hall was filled to the last seat, and the gangways were filled with standing music-lovers. The programme presented by the band was of a very high order, only our first-class bands could excel in the class of music played. Special mention must be made of Mr. L. Norwood, the brilliant solo cornet of the band and also of the solo horn player, whose tone and execution was great. Mr A F Brooks, the professional conductor, has brought the Headington Band along wonderfully durung the past few years, ably supported by Mr W.T. M1ller, the resident bandmaster. In Mr. C E Clifton too, the band has a gem of a secretary, such as few bands in th1s district possess. Nothing is too much for him to do, if it will benefit h1s band and he is just as hardworking in the cause of the Association. May he live to see Headington among the first-class bands of England. The annual dinner took place on Saturday, March 23rd.
---
BRASS BAND NEWS, APRIL 1924
Oxford and District News
February 1924
A first-class concert was given by the Headington Silver Prize Band, in Oxford Town Hall, on Sunday, January 13th. The Band was on its best form, and played all the items in fine style. Although the hall was filled to its utmost capacity, it is disappointing to hear that the receipts hardly paid expenses. 800 3d pieces were in the collection! It is as well that no smaller silver coins are in circulation, or concerts in these parts would be run at a dead loss every time. I must complement Mr. L. Norwood, Headington's brilliant solo cornet on his play1ng, whiCh was of a very high standard. You will need to watch this man, Mr. Clifton, or some of our champion bands will be trying to rope him in.
---
I hear of a new band, known as the "East Oxford and Cowley Band," but am unable to get much information about it at present. Mr Bowen is in charge, I understand. Shall be glad to have a line occasionally from you old friend.
---
BRASS BAND NEWS, FEBRUARY 1924
OXFORD & DISTRICT NOTES
September 1923
Headington Silver Band, the local champions, are still going strong. During the past month they have been extremely busy. On September 30th they played to a packed house in Oxford Town Hall, at the first of their Sunday evening concerts, and the "Frank Gray" Shield won at Oxford and the Cup won at Fairford Contest were on view. The number of 3d pieces taken at this concert totalled no less than 850. Someone likes cheap concerts! On October 6th the band held a Smoking Concert to celebrate their successes during the past season. Since they started contesting in July, 1922, they have won 5 firsts, 2 second and 2 third prizes, in addition to the trophies above mentioned.
The Cup was duly christened duning the evening w1th three bottles of champagne ("Trotter" should have been present!). Mr. A. F. Brooks is the professional conductor of the band, Mr. W. Miller, bandmaster; and Mr. C. E. Clifton, secretary: On October 7th this band gave a very enjoyable programme of music at the Oxford Prison ("Eupho" was not in the audience), and they have promised to pay another Visit at an early date.
On Sunday, 14th October, a concert was held in the Cowley Road Picture Hall, Oxford, the band again providing a very pleasing selection of music to a house crowded to its utmost capacity. The Headington Band is the most go ahead combination in the district, and w11l be going "all out" next season. So watch your laurels, ye bands of North! - EUPHO
---
BRASS BAND NEWS, NOVEMBER 1923
ODBBA Contest
25 August 1923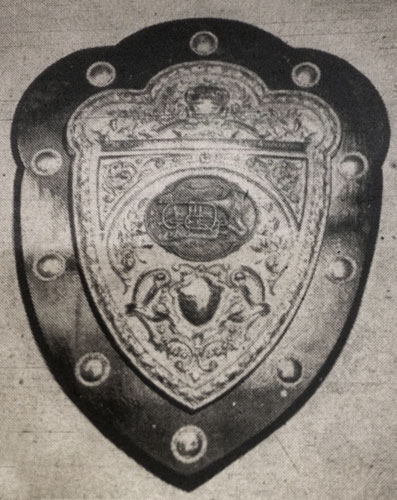 The Band competed at the first Association contest at Worcester College Sports Ground, Oxford (test piece 'Dawn of Spring') gaining 1st prize and also 1st prize for march, again playing 'Fraternity'.JA
The Oxford and District Brass Band Association Challenge Shield, given by Mr. Frank Gray M.P., and won by the Headington Silver Prize Band.
---
OXFORD JOURNAL ILLUSTRATED, 3 October 1923
Frank Brooks made bandmaster
August 1923
Frank Brooks made bandmaster
August 1923
In August 1923 Mr Frank Brooks from Wolverton took over as professional conductor.
Fairford Contest
14 July 1923
We were 3rd in the march, as in the previous year, but winning on the test piece 'La Traviata'. Also we won the medal for best solo cornet. This was won by Lewis Norwood who had joined us earlier from Wolverton. He went on to win many more medals before he moved on to form Morris Motors Band at the end of 1924.JA
---
There was some little excitement before the contest as three of the bands competing had already met at Witney Contest a month before, and the judge there (Mr. Harold Coates, of Ealing) said they had run each other very close. So we were certainly expecting these bands to make a bold fight for the cup, and we were not disappointed. The fight was very keen. I tried to place the prize bands, but gave it up as a bad job and waited to hear the judge's award. The judge, Mr. Tom Eastwood (of Golden "Linfit" fame), very quickly announced h1s award. First Prize and Silver Cup also Silver Medal for solo cornet to Headington Silver Prize Band Oxford (J. Wornell)
---
Headington Silver recieved a splendid reception when they returned with the cup to Oxford, and Headington. Their rapid rise from an ordinary village band to a cup winnning band at an opeen contest will stand out as a brass band record. It was the anniversary of the first contest Fairford in 1922. Then they came third in the march and fourth in the selection ; 1923, the cup. They are very keen at practwe, and pay every attention to their trainers. They have had professional tuition from Mr. T. J Wornell, late solo cornet of The Royal Horse Guards (The Blues), also from Mr. J. Wornell, a well-known London bandmaster so they certainly have been well trained. I shall be looking for still h1gher honours at future contests from this band.
---
Wolverton Prize, conducted by Mr. Brooks, played at the Manor House Grounds, Headington, on Sunday, July 15th, and again a large crowd was there to enjoy their beautiful playing. A splendid toned band, and quite a musical treat to listen to them. Several more concerts are being arranged by the Headington band secretary, Mr. Chas. Clifton, and I hope all local bandsmen will go and hear these splendid bands, and help the Headington lads to "Spread the Light" in the Oxford district. Headington Silver are bookd for the Manor House Grounds on the 21st, and the people will be able to show their appreciation by giving them a right royal welcome. The cup won at Fairford Contest will be on view.
---
BRASS BAND NEWS, AUGUST 1923
OXFORD & DISTRICT NOTES
July 1923
Headington Silver are engaged for the Peace Day Fete on July 28th or would have entered Aldbourne Contest They gave a very fine performance at Witney and quite satisfied their friends with the progress they are making. They are hard at work for Fairford Contest putting in four nights practice each week. That's the way lads. I hope to hear you have gone one better than at Witney. To be only nine points behind Kingswood shows that you are made of the right stuff. You know what Mr. Harold Coates told you : Practice, practice, practice. I hear you have taken his good advice to heart, and practice is now the order of the day at Headington.
---
BRASS BAND NEWS, JULY 1923
OXFORD & DISTRICT NOTES
June 1923
Headington secured second prize in the march, third prize in the selection and silver medal for best trombone at Swindon Contest. Well done boys! This is a splendid start to the contesting season. I hear you are in for Witney Contest on June 16th. You will have a stiff fight there, so work hard and try and keep one of the prizes at least in Oxfordshire. Have finished their winter concerts which have been a great success, and are now working up their outdoor programmes.
---
BRASS BAND NEWS, JUNE 1923
OXFORD & DISTRICT NOTES
April 1923
The Headington Silver Band send me their balance sheet for 1922. It is very good reading indeed. The income for the year was £305 5s. 6d; expenditure £302 0s. 6d, leaving a balance in hand of £3 5s. Mr. Clifton, their secretary, who hails from Lancashire, is a very keen businessman and he has built his band on a very firm foundation. When he first took on the band he found them with worn-out instruments. He soon set to work and procured for them a full set of first class instrumets from Higham, Manchester; then a splendid new uniform and new music. He found them professwnal tuition and then put them on the contest platform, and he w1ll not rest until he sees them the champion band of Oxfordshire-a village band that intends to "Spread the light". The first platform they ever mounted to play a selection was the coatest platform at Fairford Contest last year where they came fourth, seven bands competing. Mr. Miller their conductor also is deserving of a word of praise, for he has worked with a will to bring the band to the front, worked every evening (when not with the full band) with the learners and has several likely lads to take the place of members who resign. So things look very rosy at Headington. They are hard at work for Swindon Contest on April 28th.
---
BRASS BAND NEWS, APRIL 1923
Headington Silver Prize Band
1922
The band is renamed the Headington Silver Prize Band
Kirtlington Park Contest
August 1922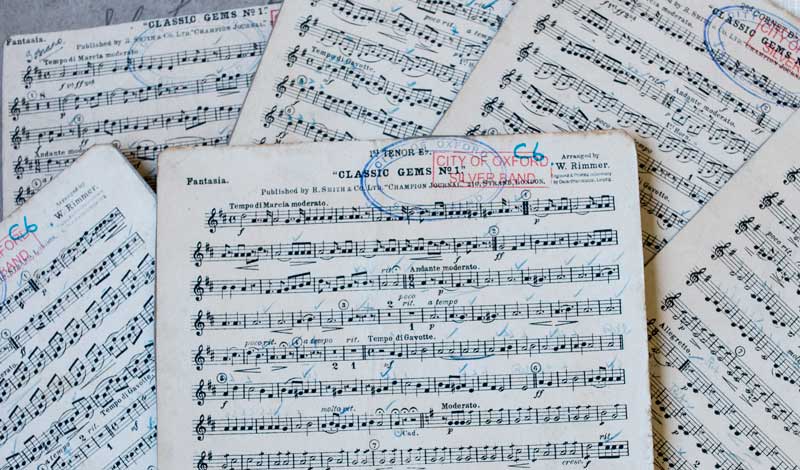 Later that year we played at our second contest. This was at Kirtlington Park and organised by Bletchington Band. The test piece was from the opera 'The Lily of Killarney', and much more difficult than 'Classic Gems'. Again Tommy Wornall conducted and played soprano. Only two Bands entered this contest, ourselves and a Band called 'Chawley Brick Works' . I have no idea where they came from. They were a Band of about 12-14 strong but were all old timers of vast experience and I remember hearing one say to another "'Us'll win this easily, they be all boys".
Each Band had to play a march going into the Park and as we started off I also remember another of them saying, "They might only be boys but they can't half play, can't em". We again played 'Fraternity' for the march contest. This was on the stand, not the march into the Park, and were awarded 1st prize. We also won 1st prize for the test piece and that was how the word 'prize' was added to the title of the Band.JA
Fairford contest
15 July 1922
We were 3rd in the march contest and 4th in the test piece out of about 10 or 12 Bands which were all of good quality and most of them with many years of contesting experience. We had no soprano player at that time so Mr Wornall played the soprano as well as conducting. Mr Miller, our Bandmaster, played solo cornet. I played repiano cornet that day and my brother played 2nd horn. That was our baptism in contesting and I think we were all well pleased with the result. We played 'Fraternity' by John Moorhouse in the march contest and the test piece was 'Classic Gems No. 1 '. I remember as we were going home that night, someone said 'Never mind, we will win it next year', and we did! But that is another story.JA
Contesting begins
1922
The Band first started contesting in 1922 when it took part in the Fairford contest on 15th July. This was all the idea of Charles Clifton, who was the Secretary, and who believed that the contesting was the only way to improve the Band. He also said that we should do it properly with a professional conductor, so he brought in a Mr T. J Wornall from London who had many years of experience under the great Tom Morgan who had been one of the leading lights in the Brass Band world of contesting for many years. We most certainly felt the impact that Tommy Wornall had upon us. He was more like a fatherly figure and seemed capable of coaxing almost anything out of us.JA