1964
A timeline of news, stories and pictures from 1964.
If you have stories, memories or pictures of the band we'd love to hear from you.
All 1840 1850 1860 1870 1880 1890 1900 1910 1920 1930 1940 1950 1960 1970 1980 1990 2000 2010
1964 Oxford Annual Contest
3 October 1964
The City of Oxford Silver Band hosts its annual contest at Oxford Town Hall. Winners were: Section A: British Railway Staff Association Silver (Swindon), Section B: Uplands (Smethwick).
A purpose-built Bandhall proposed
June 1964
Plans are submitted for a new bandroom to be built in Temple Cowley. Architect.: Peter John Parsons (Abingdon Design Associates)
Bandhall vandalised!
16 April 1964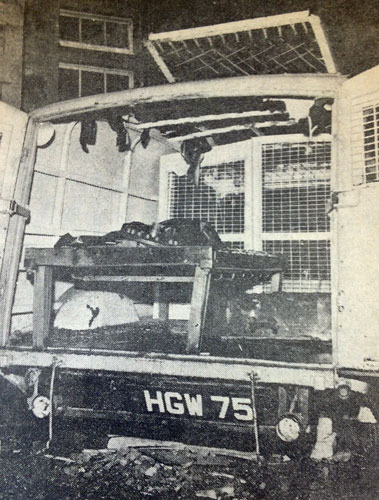 Hooligans vandalise the Barracks bandroom and wreck a van used by the band to transport instruments.
Intruders wreck bandsmen's van
Sousa was late on parade at Cowley Barracks last night. Members of the City of Oxford Silver Band, who usually start their practice night with Sousa on Parade, spent more than an hour clearing up the mess left by intruders.
The band uses part of the old canteen block as its temporary band hut, but since they moved in last autumn vandals have been a considerable nuisance, said the band's secretary, Mr. F. Woolf sic.
Last night's escapade - a break-in without any theft-was the fifth.
When members of the band arrived they found the hut "a complete shambles."
Intruders had taken the band uniforms out of a cupboard and dragged them over the floor, getting them dirty and tearing some of the lapels and badges off.
The instruments, more than 30, had been taken out of their cases and left in an adjoining room used by sea Cadets.
When the practice began an hour and five minutes late the only thing reported missing was a mouthpiece, but one was quickly found.
Outside the canteen block the band's van used to carry their instruments around had been wrecked. The roof had been torn off, a bed frame thrown into the cab and another in the back of the van.
But this, said a band official was damage which had been spread over a long period.
OXFORD MAIL, 17 April 1964
Solo, Duet, Trio - Jim tries 'em all
6 April 1964
Solo, Duet, Trio - Jim tries 'em all
Professor Jimmy Edwards has no ambition to play Hamlet, but he has several times realised another - to conduct.
At the New Theatre, Oxford, last night, he conducted three local bands in a mass brass bands concert.
Afterwards, the president of the City of Oxford Silver Band, Dr. Bernard Rose, presented him with a baton in a case and congratulated him on a "first class professional performance."
"Thank you, This will light many a good fire." replied the professor twitching his moustache.
Joined In
He joined in a euphonium trio with Roger Lock and Merlin Roberts of the C.O.S.B. and played a trombone solo, accompanied by the Pressed Steel Band.
Finally he ventured on a cornet duet with Gwyn Davies, of the B.M.C. Morris Motors Band or rather a cornet duel, in which he countered the bandsman's virtuoso variations with defiant repetitions of his own less adventurous phrasing.
The Morris Motors Band had just become Southern Area champions on Saturday, beating 50 other bands and regaining the title they held two years ago. They will now appear at the Great Britain finals at the Royal Albert Hall in October.
They returned on Wednesday from a five-day tour of Holland, where they gave six concerts, including one broadcast.
In his dressing room in the interval, Jimmy said this was the fourth time he had conducted brass bands for charity.
This time two charities benefited, two thirds going to the Lord Mayor's Appeal for the C.O.S.B. building fund for a new headquarters, the rest to the National Youth Brass Band of Great Britain.
For the rest of the interval he tried to work out a comic routine on the lines of those he had done in the first half with Eric Sykes, the programme's genial compere.
"Your E Flat doesn't sound like my E flat" he complained as they essayed Nellie Dean and the Dark Town Strutters' Ball, with himself on trumpet and Sykes on guitar.
No cannon
"You really need a cannon for the 1812," warned Mrs. Edwards. "Someone go and buy a cannon."
However, in the end, Jimmy and Eric contented themselves with a cross-talk act and Tchaikovsky's 1812 Overture was played without a cannon.
This was the impressive climax of a second half in which the three bands united under the professor's baton, and which included the Light Cavalry Overture by Suppe ("Minestrone to his friends" was Jimmy's footnote).
Derrick Grigs
PHOTO: Jim the jester tries on a new line in headgear.
PHOTO: A euphonic euphonium trio in the shape of Jimmy Edwards, Merlin Roberts and Roger Lock
OXFORD MAIL 6 Apr 1964
Silver Band Rehearses for Jimmy Edwards Show
26 March 1964

Oxford City Silver band being conducted by Mr. Harold Williams at Cowley Barracks last night in a rehearsal for the Jimmy Edwards Charity concert at the New Theatre on April 5. At the concert Mr. Edwards will conduct three bands.
OXFORD MAIL, 26 March 1964
Jimmy Edwards
11 January 1964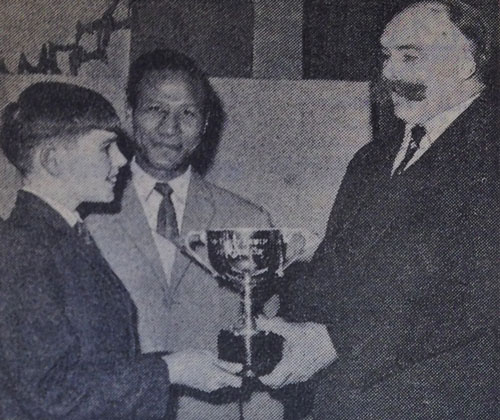 Comedian and bandsman Professor Jimmy Edwards attends a prize-giving at the City of Oxford Silver band.
Prizes given by Jimmy Edwards
Mr. Jimmy Edwards presents the Percy Lewis Cup to David Morgan, who was first in the learner's Section at the City of Oxford Silver Band members' solo contest at Cowley Worker's Club on Saturday. Mr. Percy Lewis in in the centre.
PROFESSOR Jimmy Edwards, a former brass bandsman - "I am a brilliant soloist myself" - presented the prizes at the City of Oxford Silver Band members' solo contest, held at Cowley Workers' Social Club on Saturday.
"If only I hadn't been so busy this afternoon I would have come along and taken some of the trophies myself." said the one-time member of Barnes Borough Band, now Watney's Brewery Band.
The contest attracted 19 entries in the senior section, five in the youth section and 13 in the learners section. The youngest competitor was nine-year-old cornet player Miss Susan Bradley.
The George Prior Challenge Trophy for the senior section was won by David Martin and the Ching Challenge Cup for the youth section was won by Terry Sherlock.
The competition's newest trophy, presented this year by Mr. Percy Lewis for the winner fo the learners section, went to David Morgan.
OXFORD MAIL, 13 January 1964